MS Management & HR
Graduate & Executive Education / MS Management & HR
Want to Learn More?
Contact us.
Loading...
The Haslam College of Business's Master of Science in Management and Human Resources combines business strategy, leadership development and human resources to provide graduates with the skills to lead and manage people in the workplace.
---
Duration: Flexible; students can earn their degree on the path that works around their schedule including 12 and 21 month options.
Format: Cohort-based with fall start; all evening classes on Monday through Thursday evenings. Learn from Anywhere modality allowing students the flexibility to attend classes in-person on campus or synchronously online.
Location: University of Tennessee, Knoxville's Haslam College of Business
GRE/GMAT: No test scores required.
Learn From Anywhere
Students have increased scheduling flexibility, thanks to the MSMHR program's learn-from-anywhere option.
This modality allows students to join live classes synchronously online if their jobs or other obligations prevent them from being on campus. The MSMHR remains an in-person program with classes held on the UT campus, but the new option gives students the flexibility to join virtually on a class-by-class or day-by-day basis to work around their own schedule.
Flexible Program Paths
Haslam's MSMHR program is designed with flexibility in mind, offering evening-only courses and allowing students to complete the program's 30 credit hours at their own pace, in 12 or 21 months.  All summer courses are taught synchronously online to allow students to complete out-of-town internships.
Career-focused Curriculum
The MSMHR SHRM-aligned curriculum provides a solid foundation in strategic human resources while exposing students to sought-after management and leadership skills needed to succeed in today's complex business environment.
Specialized HR courses combined with a business core emphasizing business strategy, financial acumen, legal and ethical issues, project management and workforce analytics provide students with the critical knowledge and skills needed for the next step in their career . The MSMHR curriculum also prepares students for SHRM-CP, CAPM or PMP certification.
Team-based Learning
Experiential, team-based projects across all courses in the program, enables students to apply course concepts to solve problems beginning day one. The two-course leadership development unit focuses on self-awareness, understanding your leadership style, and managerial skill-building and incorporates a team-based capstone project that challenges students to synthesize the material learned throughout the program to analyze a live business case provided by a corporate partner.
Award-winning Faculty
The faculty include thought-leaders in the fields of management and human resources engaged in cutting-edge research and experienced professionals with consulting and applied experience. Our award-winning faculty have been recognized within the Haslam College for excellence in teaching and outstanding commitment to students and will support your growth and development. One-on-one advising ensures students have the support they need to plan their path through the program and achieve their career goals.
Typical Class Profile
---
Average cohort size: 45
Average age: 28
Undergraduate major: All accepted
Undergraduate GPA: 3.47
Learn From Anywhere
"With the freedom to choose whether to attend class on campus or synchronously online, the MSMHR program captures the best of both worlds and the flexibility todays graduate students need"
Jackie Jacobs, Program Director
Career Impact
---
The integrated curriculum with a joint focus on human resources, business acumen and leadership development will help students who seek to advance their career within their current organization as well as those who are seeking a new career opportunity in Human Resources or Management.
Graduates of Haslam's MSMHR program have advanced their careers to become vice presidents of HR, directors of HR, HR business partners, senior HR generalists, HR specialists, employee relations managers, recruiting directors, benefits consultants, compensation analysts, and compensation managers and are employed in a wide range of industries. One-on-one advising combined with outstanding resources, career-focused events, and the support of a career development coordinator contribute to our proven track-record of success in helping MSMHR graduates secure roles in HR.
The MSMHR degree is ideal for students who want to make the leap into management in other non-HR fields. For example, students with degrees in a variety of non-business areas (e.g., nursing, engineering, political science, history, English, and beyond) who want to take on supervisory responsibilities will find the grounding they need to succeed in a variety of business roles. Graduates of the program are currently working as business development managers, finance directors, project managers, business planning specialists, client services specialists, and more.
The MSMHR hosts career and networking events throughout the year to connect employers with internship and job-seeking students. Networking events include: Graduate Business Program Expo, networking social, HR recruiting luncheon, on-campus and virtual corporate information sessions, class visits by recruiters, alumni networking events, guest speakers, and many other opportunities to build your network.
Specialized coursework prepares students for the SHRM-CP or project management certification (CAPM or PMP). Faulty provide resources and support to students preparing for certification exams including weekly team-based study sessions.
MSMHR students have the opportunity to participate in a business case competition each spring for the Southeast Regional Chapters of the SHRM. Haslam has taken home first place in the competition multiple times and has been named an Outstanding SHRM Chapter for several consecutive years.
Amazon
Covenant Health
DENSO
Discovery
Eastman Chemical
Ed Financial
Honeywell
International Paper
Jewelry Television
John Deere
Kimberly Clark
Kraft Foods
Liberty Mutual
MasterCraft
Oak Ridge National Laboratory (ORNL)
Panasonic
Pfizer
Pilot-Flying J
Radio Systems Corporation
Regal Cinemas
Ruby Tuesday
Scripps
Tractor Supply Company
UPS
USI Consulting
Walmart
Alumni Spotlights
Our students use the flexibility of the MSMHR to launch a new career trajectory without losing ground in their current positions. Students apply information immediately in the workplace, all while developing new and relevant knowledge and expanding their network.
Kirstyn Carlisle
Benefits Alliance Manager, UKG
"The Haslam College of Business's MSMHR program enabled me to make monumental strides in my career progression. Prior to enrolling in the program, I found myself limited to predominantly administrative support roles and lateral career moves that did not support my long-term goals to progress into leadership. The MSMHR programs strong curriculum focus on management frameworks allowed me to explore, identify, and develop my personal leadership brand while gaining hands-on project and data management skills that significantly improved my professional profile and marketability. In addition to the valuable human resource and management skills I gained through the MSMHR program, I was given access to an incredible network of diverse yet like-minded faculty and classmates that would ultimately become friends, career advocates, and C-suite mentors; a community that not only opened, but revealed, doors to professional possibilities that I was missing the keys to. There is a unique, strategic emphasis on the 'human component' in the MSMHR program. This people-centric approach allowed me to achieve and maintain success in my present and post-graduate role as a Strategic Alliance Manager in the human capital management field."
Shante Southwood
Human Resources Business Analyst, Knoxville Utility Board (KUB)
"The MSHRM (Master of Science in Human Resource Management) program has profoundly transformed various aspects of my life. Notably, it has provided me with invaluable knowledge, expert guidance, and a comprehensive skillset that enabled me to achieve my ultimate professional objective of pursuing a career in the Diversity, Equity, and Inclusion (DE&I) field. One of the program's most significant advantages lies in the numerous opportunities it afforded me to network with accomplished professionals hailing from Fortune 500 companies. These interactions have not only expanded my professional connections but also facilitated the establishment of enduring relationships with my peers within the program's cohort. As a result of the MSHRM program's rigorous curriculum and the unwavering support of its faculty, I have successfully graduated with the fulfillment of my aspirations. Presently, I hold the esteemed position of a DE&I Analyst at Knoxville Utilities Board, a position for which the program has adeptly prepared me. This opportunity has undoubtedly been instrumental in shaping my career trajectory, and I am deeply appreciative for the skills and knowledge the program has equipped me with."
Brock Southwood
Human Resources Manager, Covenant Health
"The Haslam School of Business Management and Human Resources program has been a transformative experience, empowering me both personally and professionally to achieve my goals. Through this program, I gained valuable insights into my leadership strengths and weaknesses, while the support from professors and the extensive alumni network provided exceptional opportunities for growth. Equipped with essential skills, I now excel as a Human Resources Manager at Covenant Health, making a significant impact on the organization's success. This program's impact on my personal and career development underscores the significance of quality education and networking in attaining success."
Doug Collins
Chief Operating Officer, Physical Sciences Directorate, ORNL
"After deciding to return to school and researching many different programs, I decided that the Haslam's Master of Science in Management & Human Resources (MS-MHR) was the right program for me. The flexibility and affordability of the program were key contributors in my decision. As a late career professional I spend much of my time leading and developing staff, and the MS-MHR program helped me to further grow my leadership skills."
"To anyone considering the MS-MHR program, I can provide firsthand experience that you will see the value in this program immediately. The course structure and engaging professors provide "real life" work experiences. Additionally, a collaborative learning environment allows students to apply concepts no matter where they are in their careers. You will not regret enrolling in the program!"
Emily Easter
Learning & Development Analyst, Knoxville Utility Board (KUB)
"This program has been instrumental in helping me successfully transition careers and has prepared me to enter the field of Human Resources as an excellent professional and highly effective leader. One of the greatest strengths of the program is the consistent support and encouragement from the faculty, many of whom work diligently to develop personal relationships with students. I will continue to regard several of my professors as professional mentors long after my time in the program ends."
Jessica Rupnaraine
Senior HR Generalist, Honeywell
"The MS-MHR Program helped me to apply knowledge to my work experience. This increased my capabilities and opened new doors in my career. The faculty delivered the curriculum in a way that shaped a positive experience throughout the program."
What You'll Learn
---
Haslam's MSMHR students learn the skills to analyze issues, propose and implement solutions, and effectively optimize human capital for a range of organizations. The program has a strategic human resources focus integrated with core business skills and personal leadership development.
Curriculum
---
Fall Semester Courses
HRM 521: Foundations of Strategic HRM
MGT 558: Business Strategy and Financial Management
MGT 555: Leadership and Organizational Behavior
HRM 545: Strategic Rewards Management
Spring Semester Courses
MGT 553: Legal and Ethical Issues in Management
MGT 562: Data-Driven Decision Making
HRM 540: Strategic Talent Management
MGT 556: Strategic Leadership Capstone Experience
Summer Semester Courses
(online only)
HRM 535: Strategic Performance Management
MGT 580: Project Management
MGT 595: Selected Topics-Current Management Issues
Summer 2024 selected topics include Business & Technology Skills (1.5 credits) and Labor & Employee Relations (1.5 credits)
Total Program Hours: 30
Program Paths:
Fall: HRM 521, MGT 558, MGT 555, HRM 545
Spring: MGT 553, MGT 562, HRM 540, MGT 556
Summer (online): HRM 535, MGT 580
Year 1
Fall: HRM 521, MGT 558
Spring: MGT 553, MGT 562
Summer (online): HRM 535, MGT 580
Year 2
Fall: MGT 555, HRM 545
Spring: HRM 540, MGT 556
Admissions
---
Applications for the MSMHR program are reviewed in a holistic manner to assess each applicant's potential fit and likely success in the program.
Requirements
Undergraduate GPA:
The minimum undergraduate GPA is 2.7 out of 4.0 for US degree holders and 3.0 out of 4.0 for non-US degree holders.
Resume & Personal Statement:
All applicants must submit a current resume and a personal statement between 1 and 2 pages in length describing their interest in the program and professional career goals.
Two Letters of Recommendation:
At least one must be a professional recommendation from a current or former supervisor and the second may be an academic reference or a second professional reference from a current or former supervisor.
Personal Interview:
Candidates who progress to the second stage of the admissions process will be invited to participate in an in-person or virtual, 20-minute interview with a member of the admissions team.
GMAT/GRE:
Test scores from either the GMAT or GRE are optional. For students seeking merit-based GTA positions or scholarships, submission of test scores is recommended.
English Language Proficiency:
For applicants whose native language is not English, the TOEFL or the IELTS test is required. Scores must be provided directly by ETS (Educational Testing Service) to the UT Office of Graduate Studies. The MSMHR requires a minimum score of 600 or 100 on the IBT (minimum of 25 in each category) for the TOEFL or 7.5 for the IELTS. Scores are valid for two years.
Key Admission Dates:
December 1st: Priority admission review date for international and domestic applicants If students wish to be considered for a merit-based GTA appointment, please submit an application by this date
February 1st: Final review date for international applicants
February 15th: Second admission review date for domestic applicants
March 15th: Third admission review date for domestic applicants
After March 15th, domestic applications will be accepted and reviewed on a rolling basis until the cohort is full but no later than July 1st
Events
EXPLORE DAYS (virtual)
Learn more about the MSMHR program and connect with the Program Director, Assistant Director of Admissions, and current students.
Fall 2023 Dates:
Thursday Sept 21, 2023, 6-7pm
Tuesday Oct 10, 2023, 6-7pm
Monday Nov 6, 2023, 6-7pm
Wednesday. Dec 13, 2023, 6-7pm
Application Quick Links
Create a new online application account
Continue with your existing application
Readmission
Tuition & Financial Aid
---
An up-to-date schedule of tuition and fees for in and out of state students can be found on UT's Graduate School website.
Tuition and fees listed on the graduate school's website do not include room, board, books and supplies or other living expenses. In addition to these costs, students admitted to Haslam's MSMHR program will be responsible for a $4,500 program fee ($1,500 per semester for the first three semesters of enrollment; students with tuition waivers will still be responsible for this program fee).
Financial Aid
Learn about federal student loans and other need-based financial aid for graduate students at the UT Office of Financial Aid & Scholarships page. Complete the FAFSA Application for Federal Student Aid) by February 15.
Funding
Our admitted applicants are automatically considered for merit-based program-funded graduate assistantships and scholarships. Assistantships and scholarships are highly competitive and not all applicants receive funding opportunities. The graduate assistantships include a tuition fee waiver and a stipend for the semester awarded.No additional application is necessary for financial consideration. However, you can apply for graduate assistantships that are outside of the MSBA program; our graduate school has a website where you can see openings for graduate assistantships that different departments and colleges post.
Faculty
---
Debbie Mackey
Professional Development Coordinator and Distinguished Lecturer
Management & Entrepreneurship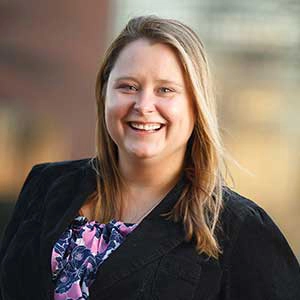 Nancy Scott
Director of Leadership Development Programs
Executive Education
,
Healthcare
,
Leadership & Strategy
,
Physician Executive MBA
Timothy Munyon
CSEE Co-Director, Janet and Jeff Davis Faculty Research Fellow, Professor of Management, and Department of Management & Entrepreneurship, GSCI Fellow
Aerospace & Defense
,
Consortium for Social Enterprise Effectiveness
,
Executive Education
,
Global Supply Chain Institute
,
Leadership & Strategy
,
Management & Entrepreneurship
,
Professional MBA
Faculty are committed to your success.
The faculty include thought-leaders in the fields of management and human resources engaged in cutting-edge research and experienced professionals with consulting and applied experience. Our award-winning faculty have been recognized within the Haslam College for excellence in teaching and will support your growth and development. You will also receive one-on-one advising to help you develop a plan to graduate that works with your schedule.
For more information contact us.
---
Ashley Sams
Assistant Director of Admissions and Recruitment
Graduate Business Programs
(865) 974-8696
asams6@utk.edu
Jackie Jacobs, Ph.D., CAPM
Director, MSMHR Program
(865) 974-3161
jjacobs1@utk.edu